In 2016, Intel collaborated with IAG to combine our Enterprise Startup Engagement program for a reality TV show called America's Greatest Makers. We recently posted a blog about Dave Krawczyk, who, after completion of the program, used his customer discovery knowledge to accelerate the creation of a new startup. Another participant of the program was Dean Dijour. At the time, he was finishing his senior year of High School. He pitched his company Collarator to America's Greatest Makers judges and making it half way through the program, Dean kept his feet buried into his startup. For those that didn't watch America's Greatest Makers, Collarator is a smart dog collar. The user is able to build a custom virtual fence to allow their dog to run free in any space. If the dog tries to cross the virtual fence it will be shocked – just like the invisible fence.
While participating in IAG's program, Collarator made a lot of progress – they defined customer segments, built a scalable business plan, and created a working minimal viable product (MVP) that was tested on Dean's cofounder's dog. "The entrepreneurship skills I was taught by Mark and Andre have followed me in activities beyond Collarator," Dean reflected. "Before I took their course, I knew what an entrepreneur was, but I didn't know what to do or how to do it."
In the year since AGM aired, Dean has worked with a manufacturer (for Collarator) based in Colorado, mentored entrepreneurship to high schoolers and interned at a VC firm. During his time as a VC intern, Dean took the lessons he learned from IAG to heart. Diving deeper, he explained, "One can apply the Lean Startup mentality to the mastermind of a VC. You know within a few questions who is a real and valuable product – and who is faking it. In the future, I would like to join the VC industry. But, first I'd like to be the founder of a few more startups." By immersing himself in every corner of the industry, Dean hopes that by the end of 2017 Collarator will be ready for crowdfunding and/or pitching to investors. Now, Dean states a problem many startups come across, "Technology adoption (for Collarator) is the hardest part… these final last steps are a fragile process – we must tread carefully."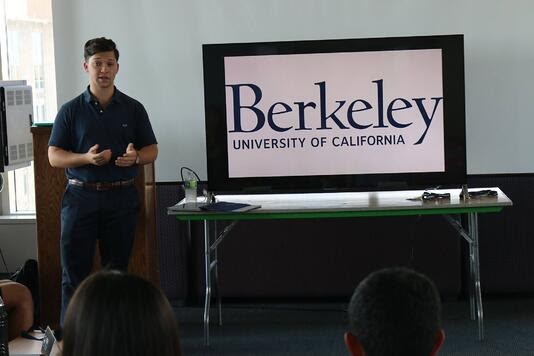 Dean is carving his own dirt path with the utmost confidence. He has used his connections to bring VC funding to his university to support college startups and young entrepreneurs. Today, he is pushing his peers to build stuff the world needs. Tomorrow, he will be protecting your dog from running away. In a few years, he will be funding the world's next must-have product. Let's see where this dreamer lands.