Meet Our Team
Mark Searle is Managing Director of the Innovation Acceleration Group, Lecturer and Industry Fellow at the Sutardja Center for Entrepreneurship and Technology, and former Senior Fellow for Global Programs at the Haas School of Business, Lester Center for Entrepreneurship. He is an award-winning international serial entrepreneur in domains ranging from 3D printing & rapid prototyping to enterprise software, cloud computing and consumer Internet. He brings 20 years of experience as co-founder, CEO and COO of a number of early-stage and growth-stage technology startup companies.
Mark has led and taught Innovation and Entrepreneurship programs sponsored by major corporations including Intel, Bosch and Caterpillar and in collaboration with universities and government agencies around the world, including Spain, India, Brazil, Iraq, Turkey and Saudi Arabia, among others. He served as Founder and CEO of SenSage [acquired by NASDAQ: KEYW] and LogSavvy, as CEO of Europe-based Kinamik Data Integrity, and as COO at Plynetics Corp., Cybergold [NASDAQ: CGLD] and Internet Pictures Corp. [NASDAQ: IPIX]. Companies under Mark's leadership have won numerous awards including: Top European ICT Startup (Eurecan); Innovate 100 most innovative startups, "Red Herring 100" Top North American Startups, and others. He holds an MBA from Harvard Business School, an AB with honors from Princeton University and was a Distinguished Graduate Student Instructor at UC Berkeley.
Elizabeth Saunders is the Chief of Staff and Program Director for the Innovation Acceleration Group. After serving five years as a cryptologic technician in the U.S. Navy, Elizabeth held a number of jobs across diverse industries in international settings, including managing a consumer-facing business in Central America, working with the U.N.'s grassroots initiative to fight human trafficking in London and around the world, and managing US programs for an India-based immersive business education venture. She was also Program Manager at startup-focused technology engine YouNoodle. She works with the IAG team to enable entrepreneurs and corporate innovators to learn and apply Lean methodologies to their innovative ideas. A self-described anthropreneur, Elizabeth is interested in the intersection of culture, technology and entrepreneurship. She holds a Master's Degree in Digital Anthropology from University College London, an Anthropology Bachelor's Degree from UNC Wilmington, and is a two-time recipient of the Navy and Marine Corps Achievement Medal.
Outside of IAG, Elizabeth is founder of an early stage travel startup and an avid knitter.
Manav Subodh is Director of International Development for IAG.
Previously, Manav worked for Intel corporation and led Intel's entrepreneurship initiatives in over 30 countries including Intel's global accelerator on Wearable computing. Manav has also worked for Ernst and Young (EY), Hughes and QAI.
In addition to his roles at IAG and UC Berkeley Executive Education, Manav is a Founding Board Member of 1M1B ( A Million for A Billion), a global initiative to enable a million entrepreneurs to create jobs for a billion people in the underserved areas around the world. He was featured in Forbes as The Man Who Will Help 1 Billion People. Presently, Manav is prototyping a Smart Village jobs accelerator in India with focus on providing last mile as a service for e-commerce, energy and healthcare startups.
Ozan Sonmez is the EMEA Director of IAG. He's also our beloved Brutally Honest Startup Mentor!
Ozan is the only certified Stanford I2M & Global Innovation Catalyst Trainer in Turkey. He is one of the lead program designers for MIT Enterprise Forum Pan-Arab Chapter.
He is serving in the UBI Global Research Advisory Board (RAB), a thought leader in performance analysis of business incubation around the World. He was a regional lead instructor in Middle East for Angel Labs (based in San Francisco) where he has held training sessions for Angel Investors in different countries in Middle East and Far East. His professional background includes companies like Deloitte, Laureate Inc. and Angel Wings Ventures based in the Netherlands; where he worked as a financial professional and impact investor.
Ozan has earned his MBA Degree with a thesis on "University Models", in which he studied the 3rd Generation Universities formation principles and built a financial model for the new generation university.
He was the Finance Manager for a 100m$ Revenue-generating Istanbul Bilgi University in Turkey, that was acquired by a US-Based University Network Laureate Education, Inc. quoted in NASDAQ Stock Exchange (NASDAQ:LAUR). Previous to acquisition, he was part of the team that led negotiations with International Finance Corporations Development Arm to secure a 10m$ expansion plan of. He was the Chief Senior Auditor of Bilgi University from 2002-2004 during his tenure in Deloitte.
He has contributed to the Turkey and MENA Chapter in the definitive book on Global Corporate Venture Capital: Masters of Corporate Venture Capital: Collective Wisdom from 50 VCs Best Practices for Corporate Venturing How to Access Startup Innovation & How to Get Funded.
He was nominated & participated to the US State Department International Leaders Program in 2013.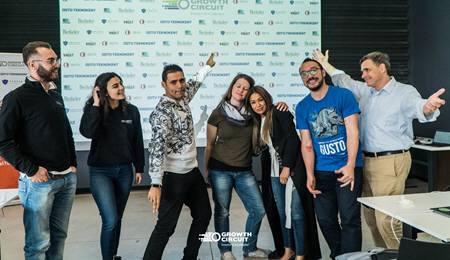 Would you like to know more?
Connect with us, let's talk!